Kansas City Chiefs Team Logo Stainless Steel Bottle Chiller, Black 14oz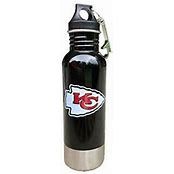 Kansas City Chiefs Team Logo Stainless Steel Bottle Chiller, Black 14oz
NFL TEAM LOGO INSULATED STAINLESS STEEL BOTTLE CHILLER
Perfect protection and keeping that bottle beer colder, longer!
Double wall stainless steel - Measures 2 5/8" x 10 1/4"

Perfect for domestic bottles - Features Team Logo

Keep your bottled beverage colder, longer (Up to 12 hours)

Interior is padded to protect during drops -Screw off bottom for quick insertion

Screw top cuts down on spills and Includes an attached bottle opener

Officially Licensed Product
Other MLB, NFL, and NHL teams available, some are pictured. Just search "Bottle" for entire inventory.