Tampa Bay Buccaneers Super Bowl LV Champions Golf Items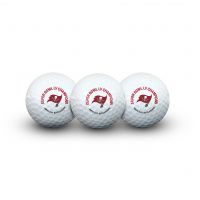 Tampa Bay Buccaneers Super Bowl LV Champions Golf Items
TAMPA BAY BUCCANEERS SUPER BOWL LV CHAMPIONS
OFFICIALLY LICENSED GOLF ACCESSORIES
3 Pack Golf Balls
Golf ball pack contains three, durable cover, two-piece construction balls, printed with Super Bowl LV and team logo.
Divot Tool and Marker 
The patented CVX ball mark repair tool utilizes a 19 degree angle and convex curve to promote the correct forward motion to properly repair ball marks. The CVX ball mark repair tool is ergonomically designed with custom contoured rails for comfortable finger placement, and a textured indent for secure thumb placement. The magnetic front holds your ball marker in place. The set includes two iron stamped ball markers embellished with the team trademark.

Hat Clip and Markers

Magnetic hat clip with ball markers attaches to hat or visor. Includes two interchangeable iron stamped ball markers embellished with team trademark. Packaged in hangable clamshell
Cleaning Towel
Ingenuity meets versatility with the patented dual-textured Face/Club Towel. Innovative woven ribs capture dirt from your clubs. Highly absorbent sheared 100 percent cotton velour wicks away moisture. The Tri-fold 16" X 24" towel features an embroidered SUPER BOWL CHAMPIONS and team trademark.